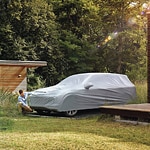 A car is a major investment, and it's important to take steps to protect that investment. One way to do that is by using a car cover to protect your car from the elements in Columbus, GA.
1. Protects Against Sun Damage: The sun can be one of the most damaging elements to your car's finish, causing fading, cracking, and other cosmetic damage. A good car cover can defend against this type of damage by blocking UV rays and providing a layer of insulation between your car's paint and the sun's heat.
2. Keeps Your Car Clean: Dust, dirt, leaves, and other debris can quickly accumulate on your car if you don't have it covered. Not only is this unsightly, but it can also lead to scratches or rust. Putting a cover on your vehicle when it isn't in use will help keep it looking cleaner for longer.
3. Shields from Rain and Snow: Water can damage your car's finish and interior as the sun. A car cover will help protect against potential water damage, keeping your car looking great inside and out.
4. Enhances Resale Value: Even if you plan on keeping your car for years to come, it's always a good idea to think ahead. Protecting your vehicle with a cover now will ensure that when you're ready to sell, it looks like new—and helps increase resale value.