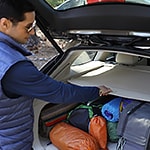 The extra cargo space provided by an SUV is a large part of the appeal for Columbus, GA drivers. There are some things to do when loading that will protect both you and your gear. Our team at Budget Car and Truck Sales recommends keeping these tips in mind when getting ready for your next trip.
If you plan on bringing a significant amount of cargo, be sure that your vehicle can handle it. Check your owner's manual for the maximum load capacity for your specific vehicle. You should also take the time to check your tire pressure to make sure your SUV can handle the added weight.
SUVs have a higher rollover risk than sedans. For that reason, it is important to put heavier items low and near the center of the cargo area. While you are loading, be sure that you do not block your view out of the back. It is important that you can see while reversing and changing lanes.