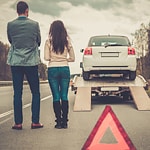 There's nothing more stressful than driving along a dark highway in Columbus, GA, or through a remote area and encountering an emergency with your vehicle. Whether a tire blew out or you're experiencing engine troubles, it's never a good time to be stuck on the side of the road. Here are a few things you should have available in case of a roadside emergency.
You should always have a first aid kit in your vehicle, and a set of warm clothes in case you're stranded with an injury. You'll want to treat any wounds and keep warm while you wait for emergency personnel to arrive. Another must-have is a set of jumper cables and flares with a reflective triangle so you remain visible to oncoming traffic.
Make sure you have a jack, spare tire, and tire pressure gauge if your emergency involves a flat tire. In case you have to walk down the road away from your car, be sure to have a flashlight and a cellphone charging block available too.